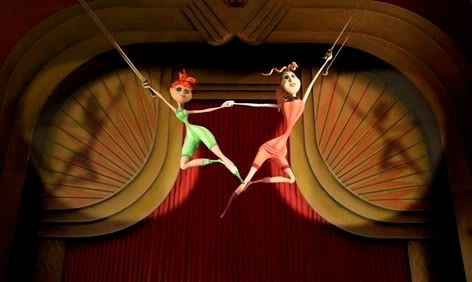 Coraline led Trisha to Miss Spink and Miss Forcible's door. Around the door were blue and red lightbulbs that flashed in and off spelling out words. A few of the bulbs were broken. It looked worse than the last time Coraline had visited. Coraline watched as ASTOUNDING! was followed by A THEATRICAL and then finally TRIUMPH!!! Shaking her head she gripped Trisha's hand tightly and led the girl down the stairs and through the door.
Stepping into a dark room that smelled of dust and velvet. The door swung beind the girls with an ominous thud. Walking cautiously forward Coraline reached out her hand and touched the soft cloth and stepped through. Behind the velvet curtains, was a poorly lit theatre. Coraline walked slowly forward and tried not to shiver as hundreds of pairs of small beady eyes followed them to the front row.
Sitting down with Trisha beside her, Coraline reached into her pocket and pulled out the seeing stone that was in her dressing gown pocket. Looking around the room Coraline shook her head. There was nothing there, no soul at all. Just the dogs and Trisha and herself.
"Nothing, I can't see anything." Coraline whispered to Trisha quietly as she was shushed by a black Scottie sat next to her.